Part of Office 365 and launched in 2018, Teams is Microsoft's fastest selling product and recently overtook Slack as the #1 collaboration tool, according to recent research. By upgrading to MS Phone System, Office 365 users also get call management features.
If you need to make and receive calls outside of the Teams family, the Microsoft solution starts to look a little clunky and quite expensive. Out-of-bundle calls are paid for per minute by logging a company credit card on the system, and whilst some country rates are in line with the market, others are not.
Instead of using their Calling Plan, Microsoft will allow you to connect Teams to an alternative network provider using Direct Routing. However, setting this up is complicated and expensive and only a handful of companies in the UK offer Direct Routing as a service. There has not been a true, self-serve, white-label, channel programme for Direct Routing in the UK - until now.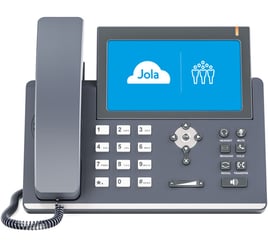 Jola's Direct Routing for Teams is built on a Microsoft approved platform and offers numbers in 167 countries as well as every area code in the UK. Jola's unlimited wholesale UK call package costs less than half that of MS Calling Plan with very competitive out-of-bundle rates – billed monthly in arears.
For the first time suppliers of Office 365 will be able to offer a viable alternative to traditional, or hosted telephony, at a compelling price to their customers, whilst making a good recurring margin on call bundles and out-of-bundle call charges.
Jola is an award-winning, channel-only supplier of communications. Besides traditional resellers and dealers, we service IT VARs, MSPs and Microsoft Partners, trusted by their customers to deliver and support solutions. We have adapted our approach to address the particular needs of each channel, providing customised services and support.
To find out more, request our Partner Pack.