Online Checkers
To get a definitive answer to the question what broadband speed is available, there are several web-sites you may need to check in with. The definitive guide to if BT Fibre is available is www.openreach.co.uk (after all these are the guys actually building the network and installing the service). If you don't have a BT phone number this site will work with just an address however it won't tell you what speeds are available or, if fibre is not available now, when it might be. It also won't tell you if you are in a Market A or B (until recently Market 1,2 &3) exchange area. This information can be found at www.samknows.com and it matters because BT charge more where they don't have any competition and this affects prices from their resellers too. Samknows will also list all the carriers operating from your local exchange but it cannot tell you if you can get fibre broadband because it only goes to exchange level, not cabinet level. There will be hundreds of cabinets attached to every exchange and not all of them will have been enabled for fibre broadband.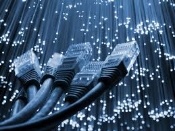 There is a checker on www.bt.com but you need to have a BT telephone number as well as a postcode before you can get a result. With most UK SMEs now buying their telephony (and numbers) from independent suppliers you may not be able to use this site. There is a BT Wholesale broadband site which works on postcode and gives all upstream and downstream speeds for all products but only BTW customers have access to it. Of course BT are not the only company offering Business Fibre Broadband, Virgin have now entered the market with speeds up to 300Mbs downstream and whist the ordering and provisioning process can be tortuous, early reports of the products once installed are encouraging. They have a much smaller network footprint to BT and there are product details and a checker at www.virginmediabusiness.co.uk. In addition to the main carriers a host of smaller regional operators have sprung up to fill gaps in Openreach's coverage.
Cabinets enabled but no capacity
As of the end of February 2016 Openreach had enabled over 75,000 BT cabinets in the UK for Fibre Broadband (FTTC and EoFTTC). At any one time around 5% of these are full and until recently the priority Openreach assigned for increasing capacity was fairly arbitrary. To better assess the real demand for FTTC in any particular area Openreach have now introduced the Waiters Scheme. Where a full cabinet is on the Waiters Scheme your supplier can place an order and when the number of waiting orders reaches a threshold, the cabinet is prioritised for a capacity upgrade. However, not all suppliers know about the Waiters Scheme and even BT Business don't offer a facility for you to place an order on a full cabinet.
If you have managed to read this far and still have your sanity then congratulations. The quick and easy way to know all the options available to you and your customers is to contact Jola.