There are plenty of doom-mongers around Microsoft's recent incursion into the cloud PBX market but little practical advice. If you find yourself competing with Teams Phone System, here are three things to consider;
1. Be prepared. Microsoft list only 22 inclusive features of Phone System on their web site and they don't appear to offer optional extras. If you currently charge for some of their standard features, you may initially feel a little disheartened. However, many features you offer, and your customers need, may not be there. Put together a competitive matrix for your salespeople and their customers. Include the range of devices you offer vs Microsoft approved devices. Make sure your salespeople understand Office 365 pricing. Phone System is available with only the more expensive licenses and at time of writing is not an upgrade on Microsoft's most popular 365 licence, Business Premium. Build a price comparison table into your Features Matrix. As Microsoft expand their features update your sales team.
2. Focus on SMEs. Due to the level of licence and technical skill required to configure Teams Phone System, it feels as if it would appeal more to bigger companies. It has always been hard to sell a hosted cloud product to really large organisations. Yes, they benefit from not having to have a PBX in every office, but at a certain size it's often cheaper for them to buy their own cloud platform. Because it is an upgrade to expensive Office 365 licences, Teams Phone System may be less attractive in the SME market, which is the sweet spot for most hosted providers and where the average sale is still only seven seats.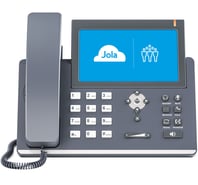 3. Offer your own Microsoft-approved Direct Routing bundle to compete with Microsoft's Calling Plan. Look for channel-only suppliers (like Jola!) with a decent portal and attractively-priced call bundles. If you don't currently sell Office 365 you will need a partner, who knows their way around PowerShell. Many Microsoft partners avoid the 'murky' world of number porting and allocation, CDRs and per minute billing. Teams Phone System is a great opportunity to start a bit of voice/data collaboration.