M2M SIMs have different qualities for a variety of industrial uses. M2M SIMs can have greater storage capacity and a higher number of read-write cycles (up to 8 million), meaning they have a longer lifetime than a standard SIM. With data retention of up to 17 years, M2M SIMs outlive standard SIMs. Additionally, M2M SIMs are built with materials that enable them to operate in harsh environmental conditions such as deserts or arctic weather.
In summary M2M SIMs offer:
Real-time data reporting: this significantly reduces the risk of expensive, overage data charges
Superior 'Control'. controlled in real-time e.g. bars, changing roaming zones etc.
M2M SIM cards are manufactured to a superior specification:
They are robust ('ruggedised') and so able to withstand corrosion, vibration, shock and extreme temperatures (-40°C to 105°C). This means they can be used in environments such as Industrial IoT ('IIoT') where 'standard' consumer grade SIM cards would quickly physically deteriorate and fail.
A longer life-span of up to 17 years. Useful for all installations in long-term projects and large but particularly important in hard to reach locations.
Superior number of read-write cycles (up to 8 million). This again means these SIMs have a longer life span.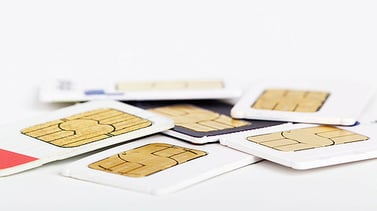 What to consider when choosing a SIM package
Think about what you need the SIM for, what you need it to do, how much data it will require, how long you need it for, where the SIM will be located (in which device and country) what network it needs to be connected to and whether it always needs to be connected.
Jola is a channel-only mobile data specialist. We have access to a wide variety of SIM packages from all the major networks globally. We provide a unique ordering, provisioning and management platform called Mobile Manager, which allows you to choose the SIM package you need, add bolt-ons, data pools and set up Private APNs.
Our M2M SIMs are available on EE on 30 day contracts, with or without fixed IPs. We also offer roaming M2M SIMs on EE in the UK, EU and USA and a multi-network EU roaming SIM package. To find out more, request our Partner Pack.