M2M (Machine to Machine) is how machines use a network to connect to each other, without the need for human intervention. M2M involves connecting devices to the cloud, managing devices and collecting data. M2M is about connecting and communicating with a machine that can send and receive data such as a device or sensor.
IoT is the network of connected devices. Things connecting with systems, people and applications.
Simply put M2M provides the connectivity that offers capability to IoT.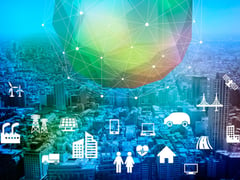 How much is this market worth?
Forbes estimate that the global IoT market will be worth £352bn by the end of 2020. According to GrowthEnabler & Markets and Markets analysis, the global IoT market share will be dominated by three sub-sectors; Smart Cities (26%), Industrial IoT (24%) and Connected Health (20%). Followed by Smart Homes (14%), Connected Cars (7%), Smart Utilities (4%) and Wearables (3%).
How does this growth affect MSPs?
The potential for new recurring revenue is significant. Experienced providers, set up to manage complex solutions, have the opportunity to establish themselves as M2M/IoT authorities, winning multi-national opportunities from within their existing base and from competitors.
As solutions go live, data needs to be collected and analysed in meaningful ways to the business. Many will use third parties for systems and data analytics to interpret data, to be used to process changes and launch new products and services.
Security is a major concern for many MSPs, particularly when processing sensitive data such as financial transactions. MSPs who already deliver managed security services, or can partner with third party data security companies, will have an advantage.
Jola provides MSPs with a wide range of 4G data packages and solutions suitable for M2M/IoT opportunities, controlled within Mobile Manager.
Mobile Manager
Mobile Manager is our unique white label ordering and management portal for large estates of SIMs, anywhere in the world. Within Mobile Manager, partners can place new orders for SIMs from all the major networks, process activations, ceases, suspensions, SIM swaps and add bolt-ons. They can also run reports and set-up alerts.
If you have customers looking for cost-effective, easy to manage, flexible and secure 4G for M2M and IoT solutions, request our partner pack.