Investment in IT hardware and software reaches a record high but SMEs struggle with complexity
A new survey by BNP Paribas reports that business investment in IT hardware and software has hit a record high, up by a quarter since the start of the 2008 financial crisis. The report says that business investment in information and communications technology jumped to £34.4 billion last year – up by 24% since the height of the recession in 2009, when businesses' IT capital spending was just £27.6bn.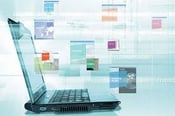 Driven by investment in software
According to the company, this growth is being driven by investment in software, which has jumped by 6% in the last year alone from £25.8bn in 2013 to £27.5bn in 2014. In the first quarter of this year, businesses spent £6.9bn on software. Software now accounts for 80% of businesses' IT capital expenditure, up from 74% ten years ago.
Cloud computing on increase with SMEs
According to the latest research from BT and the British Chambers of Commerce (BCC) cloud computing take-up among UK small to medium sized enterprises (SMEs) has increased 15 per cent in the last year. The results, which are part of a wider survey that examined how UK SMEs use and benefit from technology, revealed that 69 per cent of businesses use cloud-based applications, with more than half (53 per cent) believing that they are critical to effective remote working.
Remote working facilitated
Interestingly this research also revealed that nine out of ten (91 per cent) of companies now have at least one member of staff working from home, while a fifth of businesses (19 per cent) have more than half of their workforce working away from their main office location.
SMEs experiencing IT challenges
Yet more research suggest that SMEs are running into challenges when introducing new technologies. Mark Colquhoun, CEO of Solar, says, "The increasingly complex nature of today's technology environments is presenting issues to today's SMEs, with multiple suppliers, technologies and points of contact to manage."
Opportunity for IT support companies
SMEs using cloud-based applications need IT support so why not sell a full converged portfolio of these services and support them?
Jola work with IT support companies to service the SME market with internet connectivity and hosted applications. To find out more: