Demand for Machine to Machine (M2M) SIMs is growing. Channel partners are building a pipeline of big deals in key vertical markets, generating high-margin recurring revenue.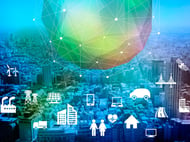 Transport
The driving experience is being revolutionised. Apps and services are giving drivers everything from in-vehicle Wi-Fi and incredible entertainment, all the way through to faster, more insightful diagnostics and maintenance.
Utilities
Businesses are managing their energy flows through smart energy grids and smart meters, allowing for more accurate bills. There is a focus on improving energy efficiency and resolving outages more effectively, with remote site monitoring.
Health
Smart devices offer important patient benefits, like connected ambulances. Ambulance crews have access to high-bandwidth internet capabilities, and tablets holding patient records. This means that information can be sent to hospitals in real-time.
Security
Commercial security is getting smarter. CCTV and alarms can be monitored securely and footage can be stored remotely.
Retail
Stores are using technology to differentiate themselves by enhancing their in-store experience. They are allowing customers to beat the queues with connected handheld smart devices. From personalised billboards to tailored signage, retailers are evolving to meet changing market conditions.
Jola is a leading supplier of mobile data solutions to the UK's voice and data channel. Jola partners can order up to 1TB of Three 4G data on rugged M2M SIMs, which are available for use in devices located in the UK. We have a Tariff Tool, which allows partners to easily select the best tariff from a portfolio of global packages and an innovative ordering and management portal.
To find out more, request our partner pack.