Good marketing consists of the right message, hitting the right prospects at the right time. This formula generates leads, which, when converted, help to fill sales pipeline with revenue. We have a growing list of MSP, CSP, ISP, traditional voice resellers and IT specialist partners, who invest in marketing to enhance their propositions. They incorporate Jola services and brand solutions. We support partners at every stage of new product roll out from marketing, through to opportunity uncovering, pricing, pitching and on-going support.
When marketing to existing customers and new prospects, it is important to get the right content to the right person. If you haven't spent time building your prospect list or customising your messaging, you may not get the results you expect. It's the equivalent of printing flyers and letting them go in the wind. They may be great flyers, your colleagues and friends may like and share them, but it won't necessarily land you that big deal.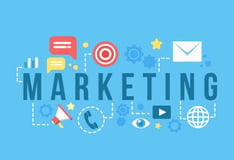 We encourage partners to have a social listening and engagement strategy, aimed at prospects in key vertical markets for mobile data. We help to identify common prospects, highlight key issues and propose unique solutions.
Working with partners we have helped to improve win rates and build sales pipelines. We advise our partners to be strategic and not generic with everything they do in marketing to achieve a much higher success rate. We recommend our partners stick to their strategy and don't lose focus when the next project comes along. Be agile, enhance the marketing plan, report on everything they do and build on successes.
Jola helps partners to market and sell internet connectivity, hosted voice, mobile data, M2M/IoT SIMs and more recently Direct Routing for Microsoft Teams. We provide access to materials and work with partners to put together effective on and off-line campaigns, we have confidence in, based on best practice in the channel. To find out more, request our Partner Pack.