We have the widest range of fixed line and mobile services at the best prices.
Jola is connected via APIs to every major UK Ethernet network and a selection of the best Ethernet 'unbundlers'. The process for quoting and ordering is automated and partners have access to all of the following services, so are well placed to find the best solution for their customer, wherever they are located in the UK.
Fixed line connectivity
FTTC broadband is reliable and offers up to 80Mb/s download speeds. All our Ethernet services are uncontended and symmetrical (upstream speeds are the same as downstream). EFM (Ethernet First Mile) offers speeds up to 35Mb/s, depending on how far the customer is from the exchange. Ethernet over Fibre To The Cabinet (EoFTTC) offers speeds up to 20Mb/s and fibre Ethernet leased lines offer speeds of up to 10Gb/s.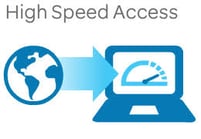 4G
In areas where fixed line internet is not available, or for short term contracts, 4G up to 50Mb/s may be an option. Jola offers up to 200GB monthly data packages, which can be monitored within devices and additional data bolt-ons added to avoid high overage charges.
Great quoting, ordering and management portals
Jola partners have access to a leased line quoting tool, our partner ordering tool and Mobile Manager which is a white label management portal for mobile SIMs.
The Jola team ran a successful channel ISP for many years and specialises in providing both fixed line internet connectivity and mobile data solutions to the channel. If you have customers asking for faster, more reliable internet connectivity or 4G connectivity, get in touch. We can help you productise solutions and give you access to Mobile Manager. To find out more…