Introduction
Local breweries are springing up all over the country. Often family-run and led by experienced brewers determined to make their hobby profitable. Local breweries like many other growing SMEs often have online shops so typically require a faster, more reliable broadband connection.
BT estimate that around 80% of businesses now have access to FTTC (Fibre To The Cabinet - fibre broadband) which is helping to facilitate the introduction of new cloud-hosted applications such as hosted telephony.
1 – To facilitate a move to hosted telephony
Growth is one driver causing breweries to consider purchasing a cloud phone system. Extensions can be purchased on a monthly basis with the ability to add or reduce connections as required. They can keep their existing phone numbers and with no physical system on site the set-up is quick and easy.
2 – To access an array of new phone features
The most compelling feature of hosted telephony solutions for local breweries is that, perhaps with only a couple of extensions, they have all the features of a much larger and highly developed business phone system. Many features are included as standard, such as shared call appearance, voicemail and disaster recovery. A range of inexpensive add-ons like unmetered standard UK landline and mobile, call recording and auto attendant can also be rented monthly.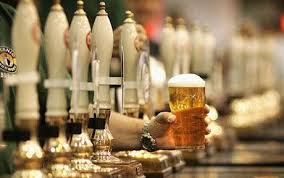 3 – To connect sites with one phone system
With hosted telephony, breweries are able to add new sites to an existing phone system by simply adding new extensions. Handsets are plug and play and extensions are easily managed via a portal. All extensions are added to the internal directory so the team can transfer calls to anyone in the group as if they were in the same building.
4 – To save money
Breweries are choosing JolaPhone for their competitive package on a market-leading Broadsoft platform. There is a choice of leading Polycom handsets, a premium licence and extensive add-ons. Typically, customers are saving over 50% on their business telephony costs by upgrading to JolaPhone hosted telephony solutions.
Jola are easy to buy from with intuitive quoting and ordering tools. We provide a great installation and after sales support service. If you have SMEs looking to upgrade to faster internet connections to facilitate cloud applications…