An APN (Access Point Name) is the name given to the gateway within a Mobile Network Operator (MNO) that provides the ability for a device containing a SIM card to access an IP network, such as the internet. The vast majority of SIMs available on the market will access the internet via the MNO's public APN.
For some customers and solutions, a public APN isn't appropriate because it is not secure enough and doesn't offer enough control. They would choose a private APN.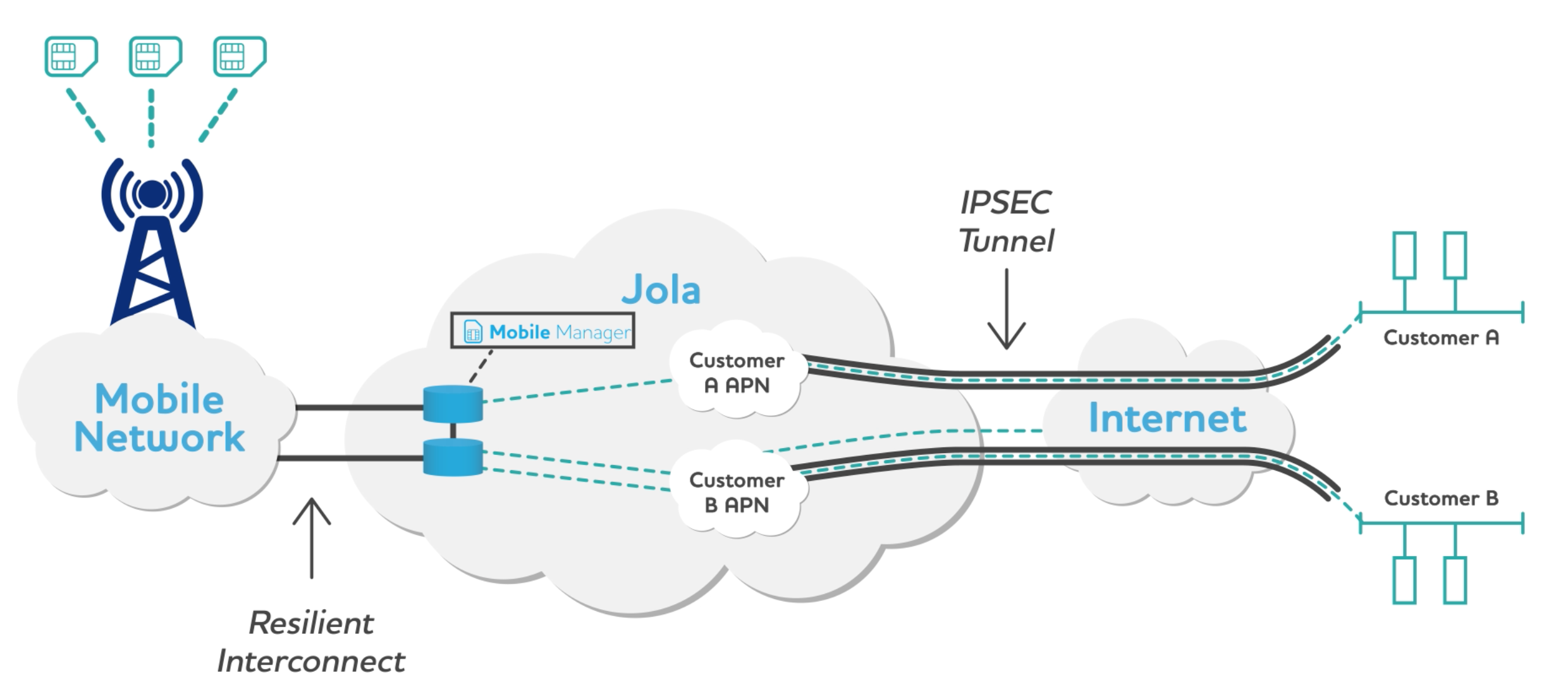 Customers with a need to increase security
Private APNs can be configured to provide a completely private IP network with no internet access at all. Customers with a need to securely access devices, with a much reduced risk of hacking, choose private APNs.
IPCCTV providers, who want secure access to their devices to upload software or download footage, are moving away from using fixed IP SIMs in devices, which are regularly being hacked. Fixed IP SIMs are typically more expensive, so users are saving money and improving security by using a private APN.
Customers who want more control over their network
By connecting remote 4G devices using a private APN, customers can implement bespoke routing and apply policies, such as content filtering.
ISPs selling Ethernet services with 4G fail-over use private APNs to ensure seamless failover, when connectivity via the primary circuit fails.
Jola is the first channel mobile supplier to launch self-service Private APN. This addresses security concerns by offering a secure, remote access platform that lets resellers seamlessly extend their existing IT security controls to their end users' mobile workforce, wherever they are.
Products are available to order, provision and modify SIMs within Mobile Manager, Jola's SIM management portal. Jola resellers can set alerts, run reports and monitor usage directly from the portal.
Until now only the MNOs could provide private APNs and there was no white label portal to manage orders. Jola is seeing an exponential rise in demand for mobile solutions and security is at the forefront of requirements. Resellers want the ability to create and manage their own secure, Private APN and Mobile Manager allows them to do just that.
To find out more, request our partner pack.