There are a wide range of company types currently buying eSIMs wholesale from eSIM MVNOs. They include MSPs, ISPs and traditional voice and data resellers. They are all productising eSIM as part of their portfolio and creating profitable, recurring revenue streams, from a product that is easy to sell, support and bill.
MSPs
MSPs are incorporating eSIM as part of their network solutions. Some specialise in vertical markets such as retail and are providing well-known blue chip organisations with corporate networks and back-up solutions. 4G back-up on a single network is not resilient, so MSPs are incorporating multi-network roaming SIMs as an option. Jola eSIMs provide global connectivity to over 450 networks and local connectivity with all four UK mobile networks.
ISPs
ISPs are using eSIMs for back-up and pre-Ethernet solutions over L2TP. ISPs provide critical internet connectivity for businesses that cannot be without internet connectivity, such as supermarkets, banks and hospitals. 4G mobile broadband is provided as a back-up to primary services in many cases.
For ISPs establishing private APNs is a possibility but this often involves a network re-configuration. Until now, the alternative has been to create a VPN tunnel, utilising a separate device at the customer site.
They can now cross-connect at layer 2 directly into an eSIM MVNO platform in London - with failover to a secondary platform in Ireland. The solution is inexpensive, reliable and relatively straightforward to set-up. With un-steered multi-network eSIMs, ISPs are not tied to any particular network and no longer need to do a site survey to determine the best signal – globally.
Resellers
IT and Telecoms resellers often have established bases of customer with mobile broadband requirements. They support businesses in rural areas with managed 4G routers, they provide 4G devices and services as part of a temporary site solution. Resellers are asked to quote for 4G data for M2M/IoT solutions, but often lose the opportunities to retail mobile networks selling direct.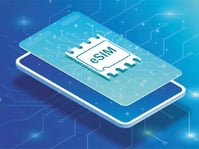 eSIMs give resellers back their edge over the retail mobile networks. They can offer a truly un-steered, multi-network connection ensuring the customer is always getting the best technical and commercial solution, whatever happens in the market. They are offering an alternative to retail mobile network contract lock-ins, saving customers the pain of swapping out SIMs.
Jola is a global eSIM MVNO formed in 2014, that sells exclusively through channel. According to Megabuyte, Jola is the fastest growing and most successful telecommunications company in the UK. Among Jola's 600+ channel partners are well known ISPs and MSPs, serving blue chip enterprises with sites worldwide. Jola is a leading supplier of specialist mobile data products to the growing IoT and M2M sectors. To find out more, request our partner pack.