Where do you want your business to be by the end of the year and how are you planning to get there? What are your key opportunities and what could threaten your success?
Objectives
Many business owners outline exactly what they want to achieve and articulate this in a list of smart objectives, with measurable targets. For example, in the next 12 months we want to exceed £xm annual revenue.
Engage key people
It is useful to involve the sales and marketing team when planning revenue targets. It is a good idea to analyse current revenue streams and pipelines to understand where business is being won and how much winning the business is costing. Which products are the most profitable? Which products are the easiest to sell? Do you have a handle on churn? Where will the opportunities come from in 2019? Is the current sales and marketing strategy working? What needs to be added or changed?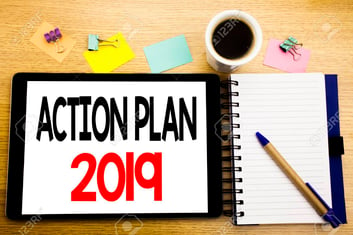 What will be accomplished by when?
The business plan usually contains high level objectives, strategy and financials, however, the sales and marketing plans often contain more detail, analysing where we are now, where we want to be, how we will get there and arrive safely.
From a marketing prospective, it is useful to analyse the market and your position within it. By analysing performance over the last 12 months, both internally and externally, you will understand the strengths, weaknesses, opportunities and threats of the business. In the strategy you can outline target customer personas, buying habits, key touches and messaging and plan your communications strategy.
From a sales prospective it is useful to go back over the last 12 months to understand trends and key revenue streams, to work out how to maximise recurring revenue streams and where the easy wins are. By gathering information from opportunities won and lost, it will help you to focus resource.
From an operations prospective, it is useful to plan product launches to meet the revenue and spend targets, against planned opportunities. Analysing performance and looking ahead helps managers to plan resources to achieve departmental KPIs, such as customer satisfaction and response rates.
This may seem obvious, but it is surprising how many business owners are so busy running companies that they don't have the time to step back, analyse performance and to plan for success. Jola is a wholesale provider of internet connectivity, hosted telephony, specialising in 4G data solutions. We help our partners to plan for success, providing unique products and services to meet exact customer requirements. To find out more, request our partner pack.