NB-IoT is a low power wide area network (LPWAN) technology. Narrowband Internet of Things is one of the new breeds of Low Power Wide Area Network (LP-WAN) standards.
It has been developed for devices which have a long battery life. It provides long range communication, with the ability to connect a wide range of assets.
It is specifically designed for connecting devices with low bandwidth requirements, using low power, while providing wider and deeper network coverage. Devices can last ten years in the field without a battery charge and connect as far as 10km.
NB-IoT is an industrial-grade LPWA solution which runs on a licenced spectrum, which guarantees quality of service and supports two-way communications. It is compatible with existing cellular network infrastructure and offers the same level of security as LTE.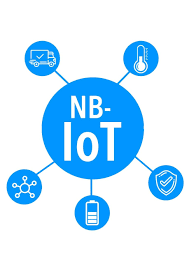 Who uses this technology?
NB-IoT is being used in street lighting, smart bins, smart parking and traffic monitoring, as well as parking sensors. Their devices don't need much power and have a long battery life. The SIMs required for these smart solutions are low-cost, long-life SIM cards, which can be activated and controlled within a central portal.
This technology is also being used in the consumer space with smart metering. Gas and electric companies are installing hundreds of thousands of smart meters, which require a low power SIM on a long-term contract. Usage is minimal, costs are a few pence per SIM, however the contract length is typically 5 years plus.
Warehouses are adopting smart technologies and there are opportunities for resellers to supply NB-IoT SIMs in warehouse monitoring, within safety devices such as cameras in lifts used by lone workers washing windows at height and in cranes.
In agriculture, NB-IoT SIMs are being used in monitoring devices for animals, crops and soil. They need a SIM card with the same lifespan as their device.
In laboratories, NB-IoT SIMs are being used in smart laboratories for monitoring and tracking.
Jola is an award-winning, channel-only supplier of business communications, specialising in mobile data SIMs. We are a global eSIM MVNO, providing innovative IoT and mobile data solutions to MSPs, ISPs, IT Support companies and Telecommunications Resellers.
We offer a wide range of data SIM packages. To find out more about Jola, request our partner pack.