Lockdown has been a testing time for many channel businesses, but is there anything we can learn from it?
We can work from anywhere with a good internet connection
We were ready to work from home 'en masse' as our phone systems, software and files were in the cloud and we were already using collaborative software, such as Microsoft Teams. Moving to a work-from-home model did not present many challenges, as many of us were already spending part of our week working remotely. Employees were able to answer calls and tickets from their kitchen tables and make offices in box rooms very easily. We were able to order and deliver additional equipment, such as headsets and office chairs to the homes of our employees.
We embraced technology
Even though we had the technology, face-to-face meetings were always preferable, and meetings booked rather than webinars or video calls. This all changed during lock-down. It is now acceptable to video call colleagues at home and arrange video conference calls and webinars with customers. We are now much more accepting of background noise and interruptions than we were pre-lock down, as we have a better understanding of the challenges our employees and customers are facing.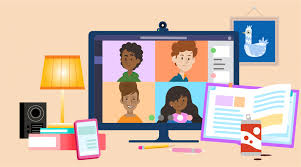 We got creative
With many projects being put on hold and events cancelled, we needed to rethink our sales and marketing strategies. Many of us enhanced our online offering, making it easier for our customers to place orders online. We re-thought our marketing messages and our sales strategies and began building relationships online using LinkedIn, Twitter and IM. As we couldn't interact face-to-face, we had more time to comment on blogs, like posts, answer LinkedIn messages and get around to those projects we had been putting off. We changed our recruitment policies and hired new people without ever meeting them face-to-face.
We listened
We listened to our staff and the challenges they were facing balancing work with their homelives and created support programmes. We arranged quizzes and online socials. We rolled out access to online workouts and confidential help lines and encouraged regular breaks and flexible working. We provided vouchers to access the latest films for free and discount vouchers for online shopping.
We tried to help
We have access to technology to allow people to communicate and were watching on the news how doctors were struggling to see patients, students were unable to study from home and family members were worrying about relatives in care homes. We contacted our local surgeries, schools and care homes and offered to help. As an industry we were able to quickly provide the technology to solve these problems.
We have more listening and learning to do to allow us to diversify and grow our businesses. The crisis will end, and we will look back on this period and the lessons learnt. Those that adapted quickly and prepared for future may turn out to be the most successful.
Jola is an award-winning provider of business communications in the channel, specialising in mobile data. We write blogs about business and technology. To find out more, request our Partner Pack.