Webinars are a great way to deliver key messages to a large group of prospects in one meeting. In the current climate, webinars are popular, as many of us are still working from home. Done well, webinars can help you generate leads, but how do you ensure success?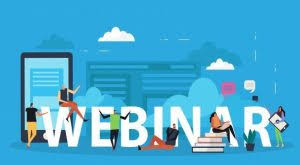 Plan engaging content
Sales pitches and product demonstrations appeal to a much smaller audience than you might think. To appeal to a wider target audience, you need to plan engaging content. What keeps your prospects up at night? What would they give up an hour of their working day to learn? Information that is expensive to buy or gather by oneself may be of interest to business owners looking for information to back up potential growth strategies. Listening to the personal testimonies of those who have already gone down this road, made the mistakes and come out the other side, may also be of interest.
Target your audience
To get the right people to attend your webinar, you need to think about how you are going to invite them. Planning a month in advance is advisable. Weekly e-mails, social posts, adverts, videos, and PR can all help promote your event and keep track of who has and has not yet registered. If there are key people you want to attend, it may also be worth giving them a call to see if they have seen the e-mail, especially if they already have a relationship with you and will take your call!
Use the right software
It probably goes without saying that you need a good Internet connection and quiet conditions for a webinar, so it may be worth running the webinar from a meeting room in the office, especially if you choose to switch on your video. Using the right software is key. There are plenty of options available to suit most budgets. I would go for one with the ability to see audience engagement, run poll questions and record and post to social sites for additional reach.
Follow up
After a successful webinar, it is important to follow up. Start with those who have asked questions, ensuring they were satisfied with the answers given, and don't be afraid to ask for feedback. After Jola webinars, we send a survey to every delegate so they can rate our performance and suggest improvements for the next one. Check out the delegates who have registered and couldn't attend. It may be worth sending them the recording and following up to see if they have any additional questions. Measuring the quality of the software, quality of the content, satisfaction of the delegates as well as their engagement gives you a good idea of how you have done. Tracking delegates followed up into the sales pipeline will tell you how successful the webinar was in terms of lead generation, and running a return on investment (RoI) calculation will let you know if it was money and time well spent.
Jola is an award-winning, channel-only supplier of business communications specialising in mobile data SIMs. We are a global eSIM MVNO, providing innovative IoT and mobile data solutions to MSPs, ISPs, IT support companies and telecommunications resellers. We run regular webinars, sharing our experience in selling mobile data solutions in the channel, key opportunities and pitfalls to avoid. To find out more, request our Partner Pack.