The past
The Internet has changed much since it came into existence. It was conceived in the era of time-sharing, but has survived into the era of personal computers, client-server, peer-to-peer computing and the network computer. It was envisioned as supporting a range of functions from file sharing and remote login to resource sharing and collaboration, and has spawned electronic mail, the World Wide Web, social media and cloud applications. But most important, it started as the creation of a small band of dedicated researchers, and has grown to be a commercial success with billions of dollars of annual investment.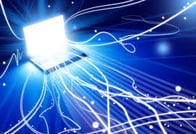 Today
According to the 2012 Global Internet User Survey. conducted by the Internet Society 96% of users access the internet daily, 90% use social media and the three main factors holding back further usage are speed, reliability and affordability. There has been a significant increase in business users of hosted telephony, cloud applications and cloud storage with the three main factors holding back further usage being reliability, security and affordability. 98% of all users stated connectivity as essential for knowledge.
The opportunity
The majority of SMEs have internet connectivity but over time are upgrading to faster, more reliable services such as Fibre Broadband and Fibre Ethernet. The Government is fuelling this demand by offering funding for eligible businesses in cities up and down the country. Is this something you could provide to your customer base?

If so, partner with Jola, who has access to multiple carriers, excellent pricing, visibility of the Government funded postcodes and who is as passionate about customer service and problem solving as you are. Get access to their pricing tool below: