In today's restaurants, PoS devices do so much more than taking orders. They can also connect with inventory management systems, back-end pricing systems, loyalty programmes and so much more. Before handheld devices, servers had to write down orders and take them back to a centralised terminal or stand behind them to fulfil orders.
PoS systems allow servers to spend more time with customers to improve their experience. They allow servers to promote new menus and link loyalty accounts to keep customers coming back for more.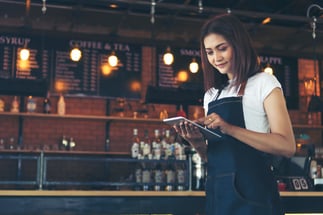 Challenges
One of the challenges MSPs face when installing PoS systems is Internet connectivity. Where 4G signal is strong, it is often used, as it is quick and easy to set up. Multinetwork SIMs offer simplicity for chains in multiple locations.
Jola's Solution
Jola eSIMs offer multinetwork roaming data across all four major mobile networks, and our routers arrive preconfigured. Estates can be managed in Mobile Manager.
Mobile Manager
Mobile Manager is our online management portal for ordering and managing estates of mobile SIMs. Our white-label portal communicates in real-time with multiple 4G networks and can be used by both resellers and their end users. Mobile Manager handles SIM activations, ceases, suspensions, reports, alerts and bolt-ons.
Jola is an award-winning, channel-only supplier of business communications specialising in mobile data SIMs. We offer a wide range of mobile data products and intelligent 4G solutions, which you cannot buy from anyone else. To find out more, request our Partner Pack.