Mobile Data SIMs on 30-day rolling contracts from multiple suppliers are aimed at tablet and laptop users but also work for Machine to Machine (M2M) applications. You can usually choose the amount of data you think you will use on a monthly basis and add bolt-ons as required, connecting your device directly to the internet. 4G is becoming widely available and offers fast, reliable internet connectivity.
Things to think about when choosing a data-only SIM
Where will you be using the data-only SIM?
Is 3G/4G enabled in this area?
How much data do you think you will need each month?
What type of SIM card do you need for your device?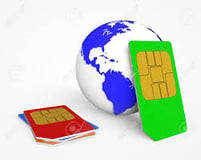 Mobile Data Devices
Data-only SIMs are available in all sizes and can be inserted or embedded into devices. A management portal is often required to activate, SIM-swap, monitor usage, cease or bar SIMs and add data bolt-ons retrospectively to mitigate out-of-bundle charges and avoid bill shock.
Jola is a leading provider of Vodafone SIM-only business bundles to UK SMEs via a channel of IT and telecommunications partners. We have launched a range of data-only SIMs with both UK and international bolt-ons on 30-day rolling contracts. SIM estates can be managed via our Mobile Manager platform.
To find out more…