Many MSPs are looking to simplify business infrastructure and reduce operating costs for their multi-sited corporate clients. Often, they provide consultancy services to analyse security risks and propose solutions. 4G back-up is commonly used to back up primary networks to add an extra layer of resilience, however managing 4G has been challenging for the MSP and expensive for the client, until now.
The challenges
The key challenges are dealing with multiple carriers, manual processes, lack of direct control, the high cost of site surveys and monitoring data usage. MSPs won't know which sites are going to go down and how much 4G data will be used until the primary connectivity is fixed. Corporate clients often complain about data overage charges, they were not expecting post incident, especially if the 4G speeds were slower than expected.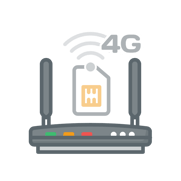 Jola provides MSPs with multi-network roaming SIMs, which are completely un-steered and always connect to the strongest mobile network in the UK. Multi-network SIMs connect to the strongest available signal and retain connectivity when multiple carrier networks fail. Using Mobile Manager, MSPs are able to order new SIMs and add them to aggregated pools, that allow the SIMs to share each other's data. If any site fails, they have a data pool to draw from.
This solution has eliminated overage charges and the need for site surveys completely. There is only one supplier to contract with and a single portal for ordering and management of the entire SIM estate.
To find out more, request our Partner Pack.