Jola offers a range of affordable, robust M2M and IoT routers, available to order in Mobile Manager, which will arrive directly at your customers' sites. The proprietary Jola App, included with all routers, auto-configures the APN and WiFi settings and allows full control over all router settings. Customer configuration is available for suitable projects. The premium models also feature Smart Roaming Technology. Intelligent 4G routers are only to be re-sold with JolaMobile SIMs.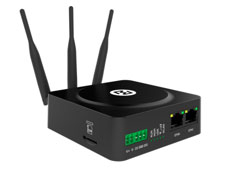 R1510
The R1510 router is a Dual Ethernet port (LAN + WAN) 3G/4G router with advanced software functions at a very competitive price point.
KEY FEATURES
Highly stable 2G/3G/4G cellular connections

Ethernet, WiFi and 4G internet connection options with auto-failover

Fully programmable Linux environment with excellent SDK documentation

'Smart Reboot' for enhanced roaming SIM management

Full SMS control for diagnosis and recovery from data network problems

Very small footprint for space-constrained applications

Wall-mount and DIN-rail mounting options available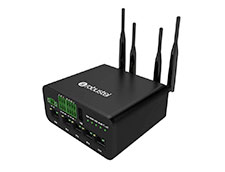 R1520
The R1520 router is a versatile 4G router with 5 Ethernet pots and GPS. It has an E-mark certification, making it suitable for in-vehicle use. Other hardware features include optionally isolated digital inputs and outputs as well as a 10-bit analogue input, capable of interfacing directly with sensors and a range of 0 to 24Vdc or 0 to 20mA.
The R1520(G) model has the same features and specification as the R1520(V) but is supplied with a global PSU and is certified for use in a long and growing list of counties outside of Europe.
KEY FEATURES
Cost-effective & high performance 3G/4G router

Rugged design with 9 to 36Vdc power

E-mark certification for in vehicle use

Optically isolated digital IO

10-bit Analogue interface for direct sensor connections

Supports Dual SIMs & WiFi/Ethernet as WAN

Cellular keep-alive and fast failover

Extensive range of software "apps" for enhanced functionality

IPsec/OpenVPN/GRE/L2TP/PPTP/DMVPN supported

Extensive global certifications
Jola has partners productising our Intelligent 4G routers with data SIMs, managed in Mobile Manager for all kinds of devices from digital signage to ticketing machines. For further information and package pricing, request our Partner Pack.