Running before you can walk
It is tempting to rent the plush office in the premier location and to bring on expensive resources too early, but it is a risk.
Entrepreneurs typically have boundless energy and big ideas for the future, however it is useful to for them to be supported by people that can not only help to make their ideas a reality but can also map the journey.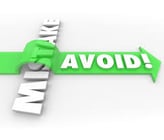 Choosing the wrong team
Successful teams typically have a diverse mix of skills and experience with a shared vision and ethos. You can't do it all yourself when growing a business, it is not sustainable. Do what you love to do and do best and include others in the management and ownership of the business.
Hire people you know and trust, who share your work ethic and company culture, who are driven and gifted in their chosen fields. Good staff are the backbone of any business and reflect your reputation and goodwill.
Choosing the wrong customers
It is exciting to win new business, however taking time out to consider whether you should accept the new business is key. Targeting financially stable companies who you can build a long-term relationship is preferable and balance your base to ensure that if you lose your biggest customer, you can still trade.
Jola is an award-winning supplier of hosted telephony, internet connectivity and innovative 4G data solutions to the voice and data channel. To read more top tips, subscribe to our blog. To find out more about Jola, request our partner pack.