2015 was a surprisingly good year for small businesses. What opportunities will 2016 bring?
In 2015
The economy was one of the strongest in the G7
Despite the headwinds of fiscal austerity and collapsing commodity prices, Britain remains one of the fastest growing large economies in the world. The latest OECD forecasts put Britain level-pegging with the USA at 2.4 per cent real annual GDP growth, creating a robust environment for business growth.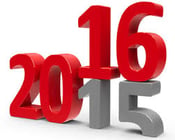 Apprenticeships received a huge funding boost
The 0.5 per cent apprenticeship levy was an unwelcome announcement for big businesses in the Autumn Statement and is set to raise £3 billion annual tax revenue from 2017. However, the Federation of Small Businesses reported in September that skills shortages were reported by over a third of SMEs. This new levy will fund 3 million apprentices over five years, helping to close that gap but with the cost borne by larger firms.
Cloud accounting software made huge inroads, with more to come
SaaS accounting platform Xero announced it has reached 100,000 licences in the UK, nearly reaching Sage's reported total of 130,000 users. A study by PANALITIX reported that 11 per cent of UK firms are using cloud accounting packages, with accountants reporting that they expect that to increase to 35 per cent in 2016. Firms on cloud accounting enjoy multiple productivity benefits, including automated bank data feeds and e-invoicing, helping to improve financial controls and gain access to finance.
In 2016
Economic predictions
The British Chambers of Commerce (BCC) has upgraded its UK GDP growth forecast from 2.4% to 2.6% in 2016, due to stronger than expected growth in household consumption and services. The latest forecast also makes the BCC's first prediction for UK growth in 2017 - at 2.6%.
Faster, chaeper, more reliable connectivity
The cost of leased circuits has dropped dramatically in recent years. This is due to the number of suppliers competing for your business and the availability of new fibre-blend technologies such as EFM and GEA. SMEs are upgrading their office connection to fast fibre or more secure, dedicated leased lines and are paying a lot less than you would think.
Cloud Telephony
With the availability of faster, more secure internet connectivity comes the opportunity of cloud applications such as hosted telephony. You can replace your existing phone system and PSTN lines with new handsets and a cloud-hosted solution such as JolaPhone and pay per seat, per month. You get a host of features such as shared call appearance, busy lamp fields, voicemail, voicemail to email, call forwarding, redial, DND, call pickup, hunt groups, SIP port, conferencing, JolaPhone Anywhere disaster recovery, hot-desking, call waiting and music on hold at the fraction of cost compared to traditional telephony.
Move to SIM-Only
SIM-only deals have been available in the consumer market for some time but businesses are just catching on. Instead of upgrading handsets and being tied into contracts with service providers, you can keep your existing handsets and choose a SIM-only contract on a monthly rolling basis, with inclusive minutes, texts and data.
If you have customers looking to upgrade their internet connectivity or their telephony contact Jola Cloud Solutions. We help partners to identify the right solutions for their customers and support them at every stage of the process.