You may have built or acquired a base of telecoms or connectivity customers. This may not be a core part of your business and the cost of supporting and billing these customers may be on the increase. What do you do? You could invest in this part of your business or sell it.
Why sell?
You may simply want to raise some cash, either to expand the business in other areas or for personal reasons
You may not have reached critical mass. A lot of data resellers get into telecoms by accident and then realise the cost of billing and support is depressing margins. Companies with bigger bases can buy better and you risk losing customers when their contracts come up for renewal.
The trend in the cost of communications is down. For example, at the end of a three-year leased line contract you may be able to renew with the customer at the same percentage margin but your cash margin could be halved, whilst your cost to support this customer has remained the same, or increased.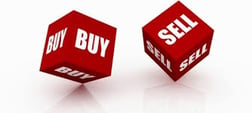 What are the challenges if you do decide to sell?
You may be too small for a broker, who traditionally looks to sell larger businesses.

You may not know who else to approach.
You may have been approached by a competitor and are reluctant to put your core business at risk by selling to them
Jola only works through channel so we don't compete for direct business. We recruit partners wanting to grow their telecommunications and internet bases. We do offer a scheme for partners looking to sell their calls, lines and broadband bases.
An upfront cash payment
An ongoing monthly commission
Commission on all future sales; from the base or other customers
For a confidential conversation about selling customer contracts, contact our MD Andrew Dickinson.
Become a
Jola partner
and benefit from a recurring income on all products, present and future. We will help you retain and grow customer contracts, protecting your base from competitors. If you are interested in becoming a Jola partner, request our partner pack.