Adding new products and services to your portfolio often starts with a single opportunity. Every element of supplier services and support is tested from the time it took to answer the first enquiry, to the quality of the post-sales support. Where suppliers exceed expectations and deals are won to the satisfaction of both the partner and the end customer, motivation to find similar opportunities is high. Where demand in the base is also high, companies are more likely to consider productising solutions and dedicating resource to growing new revenue streams. Good support at every stage is vital to closing the first deal. What support does Jola offer for each partner model?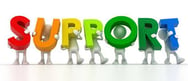 Support for dealers
Dealers use our website and branded materials (flyers, guides, videos) to market and sell solutions. Jola's Partner Managers are available to attend meetings and conference calls as required and dealers have access to a quoting and ordering tool, which allows them to create co-branded sales proposals and email them directly to the customer. Customers can review and edit proposals and when they are they ready, they can simply click to order, which automatically triggers provisioning actions internally.
Support for resellers
Resellers have typically sold similar solutions and have a view of the potential demand. They usually understand pricing models and know what their buy price needs to be, to protect margins and be competitive. These companies may already have a web site, marketing collateral and defined terms and conditions. They tend to use our product overviews, feature summaries and competitive comparison documents, available in word, to shape their own proposition. They have their own brands, a good knowledge of their competition and their own unique selling points. They like to bundle solutions to include their own service wraps, tailored to meet the specific needs of their target sector. Once their pricing is set and products have been added to the website, they use our white label product flyers and guides to create branded versions for their sales and support teams.
These companies are quite active on social media promoting themselves via Facebook, LinkedIn and Twitter. Some also have offline programmes which include events, advertising and direct mail. We give advice and support for both.
Support for both models
At Jola we offer full training for both dealers and resellers on products and platforms. We offer white label marketing content, white label pre-sales as well as white label support for key products.
To find out more about Jola and the services we offer…