If you have customers looking to buy voice and data services, you may be asking yourself this very question. To help you shortlist potential suppliers, consider these 4 Ps.
Products
Does the company provide both voice and data services? What internet services are available, at what speeds? What is the coverage like? How many carrier services do they provide, just BT, or all the major service providers? What telephony services do they offer? What hosted voice platform do they operate? Do they also offer SIP trunks, calls and lines?
The key thing to compare here is range of services available. To avoid partnering with multiple suppliers, find one that can offer the widest range of connectivity. When considering voice services look for the platform that is best supported with the widest range of call features.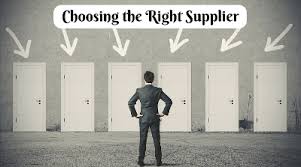 Pricing
When looking at pricing start with the Partner programme. Are there any joining fees? Are there any required sales volumes? Then look at pricing. How competitive are they for leased lines, fibre broadband and ADSL? When looking at hosted voice, look at what features are included and what come as extra to compare like for like.
Look for the best deal on the widest range of options to enable you to offer value for money.
Process
What is the partner sign-up process like? How do the contracts compare? Any clauses hidden in the small print? How are partners managed? Do you get a dedicated account manager or general contact details? Do they offer any expectations on answering calls or replying to requests? How easy is it to run a quote for an office location and establish what speeds and carrier services are available? What's the ordering process like? How straight-forward is the ordering portal? How much training and support is there on products and systems? Is there a limit on this support?
Look for a supplier with an easy quote and ordering tool which you feel confident using. Choose a responsive supplier who remains dedicated to supporting you even if you only order every now and again.
Payment
How do you get paid? How does the commission scheme work or is there the opportunity to bill customers yourself? Can you mix and match and order some products on a dealer basis and others on a reseller basis? What criteria must be met to become a reseller? Is there the option to do your own installs and manage your own support? How detailed and timely are the CDRs so you can bill your own customers?
Look for a self-billing supplier so payments are made automatically and you don't need invoice for commission or chase payments if you don't want to bill yourself. If you want to do your own billing look at their billing system, get an example bill and make sure you are comfortable with the process. How are billing queries handled and how quickly are they resolved?
Go with an experienced supplier with a good reputation that has the most flexible and efficient billing process and billing support team.
Jola aims to meet all these criteria so why not add us to your shortlist?
For further information…