Having clear company values helps to ensure that employees are working towards the same goals. Corporate values shape company culture and impact business strategy. They help to create a purpose, improve team cohesion, and create a sense of commitment in the workplace.
Building a strong business starts with building a company culture that reflects core values. They reflect what you and your employees stand for, they give the team a sense of responsibility. Every decision your employees make should be aligned with the company values you've communicated to them.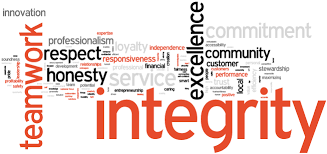 Each of your employees becomes accountable for those decisions by asking a simple question: does this decision reflect our values?
Core values impact all aspects of business, from product, to sales and marketing and customer service.
If any of your teams become disconnected with the values, other departments may feel let down, and customers may feel the brunt of the discord. So how do you ensure the values remain alive and well within your organisation?
1 – Recruitment
Values need to be lived and breathed by every employee. This starts with hiring the right people for the job, who display the same values as the organisation.
2 – Training
Values should become part of every induction and training programme to explain what they are and why they are important.
3 – Monitoring
Values should come up regularly during the working day as decisions are made. Behaviours should be monitored, and rewards set against them in appraisals.
4 – Adjustment
Any person or team not displaying the current values should be reminded of their importance and behaviours corrected each time they appear.
Jola
Jola is an award-winning, channel-only supplier of business communications, specialising in mobile data SIMs. We are a global eSIM MVNO, providing innovative IoT and mobile data solutions to MSPs, ISPs, IT Support companies and Telecommunications Resellers

.
We put the customer first, are accountable, set targets and exceed them, communicate honestly and respect our teammates, customers and suppliers. What are your core values and what do you do to ensure they remain alive and well within your organisation?
To find out more about Jola, request our Partner Pack.