Salespeople selling into Major Accounts seem to be in a league of their own. They have great business acumen and converse easily at CX level. They tailor their own sales strategies, custom-built for each Major Account. They acquire a deep understanding of the accounts they hope to close. They understand the market in which they operate, their competitors and key customers. They also build close relationships with key decision makers and influencers over time, often socially. They become a trusted resource and offer help and support in situations that don't benefit them directly, such as sharing recommendations for useful resources. As relationships strengthen, they are able to influence key decision makers and start a commercial relationship that is mutually beneficial.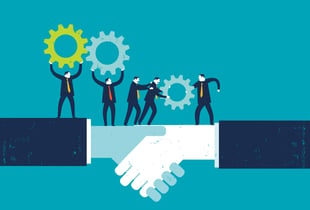 The Sales Strategy
Salespeople selling into major accounts are very good at extracting the right information, from the right people at the right time, during the sales cycle. They analyse the information gathered and decide what needs to be done and how to do it. This often involves other departments, such as development if products need to be tweaked to meet the needs of a major prospect.
The importance of networking
Major accounts salespeople often have a large network of industry peers, reflected in their social media connections and popularity at industry events. They understand relationships between contacts in key accounts, suppliers, competitors and customers and are not afraid to leverage resources. They understand the value of supporting each other and building advocates. They ensure everyone in the buying cycle is aware of the good news story, highlighting problems to be solved. They are very pro-active, excellent at overcoming obstacles and passionate about negotiation. They push for a decision and are aware of potential competition. They can demonstrate measurable results and show why signing with them is a good investment.
In a nutshell
The best Major Account salespeople tailor their selling strategy to match each step in the client's decision-making process. They understand the financial levers of an organisation. Whilst the product department and sales teams of a target prospect may be primarily concerned with product, the CEO and CFO work at a different level. To properly understand their drivers, the Major Accounts salesperson, must be able to read and understand profit and loss and balance sheet.
They understand the psychology of the buyer and know how to overcome objections and reassure doubts. They look to gain entry to Major Accounts through many windows of opportunity. They always follow up warm introductions and offer useful information. They know how to take on the competition and win. They handle negotiations effectively and offer ongoing support to ensure they win future opportunities and keep the competition out of their accounts.
Jola is an award-winning, channel-only supplier of business communications, specialising in mobile data SIMs. We are a global eSIM MVNO, providing innovative IoT and mobile data solutions to MSPs, ISPs, IT Support companies and Telecommunications Resellers. We help partners to identify and close opportunities in Major Accounts. To find out more, request our partner pack.