For the last few weeks many of us have been working from home. What do we need to consider now to ensure a safe office environment for our employees in the near future?
If it aint broke….
If your team is working successfully from home, there may be no need to move back into the office for the moment. With many schoolchildren still at home, it would be difficult for many working parents to return to the office at this time. At some point in the future however, employees may need to return to the office, so it is worth considering these points.
Step 1 – Ensuring the health of your workforce
Communicate the latest government guidelines to ensure that anyone with symptoms or anyone that has been in contact with a person testing positive for COVID 19, self-isolates for 14 days. Do you wish to issue each employee with a PPE pack containing essential items such as hand sanitiser, single-use masks, single-use gloves, blue roll, laptop and screen cleaning spray and surface cleansing spray?
Step 2 – Maintaining social distancing guidelines
You may need to look at your office plan. Are your desks 2 meters apart? Do you have adequate dividers? Do you need floor or wall signage to remind employees of the safe distance? Signs on the doors to remind people not to hold them open for others.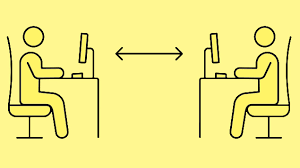 Step 3 – Maintaining a COVID free environment
You may need to look at your cleaning schedule to ensure regular cleaning of communal areas and ensure individuals each clean their desks, screens, keyboard, mice, trackpads, kettles, fridges, light switches, door handles etc. You may need to provide sanitisation stations where cleaning sprays and blue paper are provided for single-use wipe downs.
Step 4 – Socially Distanced Meetings
Can you continue to hold meetings virtually? If not think about limiting the number of people in a meeting room to ensure the 2-meter rule and consider wearing masks.
Step 5 – Socially Distanced Breaks
Consider break out areas and toilets. You may need additional signage, cleaning stations and processes to ensure surfaced are wiped clean before and after usage and that employees remain 2 meters apart. I know it sounds a lot, but you may need to ban tea rounds and ensure each person only uses their own cup, spoon and milk. If your whole team is touching the kettle and the milk bottle, there is an increased risk. Same issue with the bins, unless they are pedal bins.
Step 6 – New Rules
You may consider introducing new policies such as staggered arrival times and break times to reduce the amount of people in communal areas, such as the car park and break out rooms at the same time. You will need to ensure no sharing of IT equipment or stationery, so that everyone is allocated their own. You may need to add a sign to the microwave to ensure it is wiped down before and after use and ensure people use their own plates, knives, forks and cutlery. Most importantly you must ensure that you have a good stock of handwash and cleaning equipment to ensure staff can work effectively in their own bubble in a clean and healthy environment.
Most companies will conduct a risk assessment and implement policies and communicate them to all staff before embarking on a return to work project.
Jola is an award-winning, channel-only supplier of business communications, specialising in mobile data SIMs. We are a global eSIM MVNO, providing innovative IoT and mobile data solutions to MSPs, ISPs, IT Support companies and Telecommunications Resellers. Some of our partners are helping companies plan for their return to work focussing on their telecommunications and IT requirements. To find out more, request our Partner Pack.