Local IT Support
Many local IT support companies supply cabling and PC support to local SMEs. Typically with several hundred customers, they operate within a couple of hours drive of the office but will go farther afield if required and for the right size job. A lot of their income comes from one-off projects however they have a reasonable base of customers that pay monthly to support their office IT. Monthly recurring revenues help to grow the business and cover costs between projects.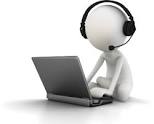 Challenges
Time
The challenges faced by the IT support companies I speak to is that they are all so busy managing the day to day that there isn't enough time to focus on growing the business.
Resource
Most manage their websites internally, new business is brought in by the MD and they often don't have dedicated sales and marketing resource focussed on winning new contracts or increasing ARPU.
Culture
Although most will be consulted when customers are looking to make changes to their existing office IT infrastructure, many feel uncomfortable proactively suggesting new solutions preferring to concentrate on supporting the existing infrastructure.
Solution
Partnering with a company with a similar mind-set to you, who is technical enough to understand the existing technology supported and commercial enough to help you add complimentary packages to your existing portfolio may be the solution.
The Jola team has years of experience with complex MPLS networks and high-SLA internet connectivity. We offer the best deal on a range of connectivity products from every major network. We offer premium hosted telephony packages from Broadsoft, the market-leader and we have the best deal on 4G mobile SIMs from Vodafone.
Our aim is to partner with IT support companies so that when your customers are thinking of upgrading they can get all the information and pricing directly from you and you can help them upgrade and support the solution moving forwards.
To find out more ...