As mobile carriers compete to win market share, mobile data packages are likely to further reduce in price. This in turn could put pressure on BT and its rivals to reduce the cost of fibre broadband to compete with 4G. 5G is expected to roll out over the next five years offering superfast speeds and inexpensive data packages.
Falling Prices
A recent study by PwC reported that 43% of the world's population cannot afford 500MB data packages and for the carriers to win more market share, prices will have to fall. We are seeing this already in the UK residential market, with one of the mobile carriers dramatically reducing the prices of their heavy user packages.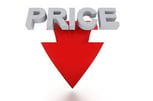 Need to compete
We know many small businesses buy residential products for business purposes, so companies targeting SMEs will need to offer comparative pricing and added-value to compete.
4G as a viable alternative
BT faces mounting pressure from regulators, rivals and customers to cut the price of fibre broadband services and increase their coverage. 4G is already widely available, offering business customers an alternative to fibre today.
The problem with 4G is that it is not unlimited, and customers are often charged extortionate amounts for going over their monthly allowance.
First movers have solved these problems by integrating cost-effective data SIMs into business-grade routers, adding monitoring and control. 4G now presents a real threat to BT and its rivals as it emerges as a substitute for fibre.
JolaNet 4G is a managed 4G router with an integrated data SIM (up to 200GB) on either Vodafone or O2 networks. The solution is managed by Jola's Mobile Manager portal, where partners have complete control to view real-time data usage, set-up alerts, apply SIM-swaps, add bolt-ons and bar SIMs. Using Mobile Manager, they can maximise margins and completely eliminate overage charges.
To find out more….