What is eSIM?
eSIM is a standard set by the GSMA, the association representing mobile network operators worldwide. It is a new technology which means that a SIM can hold multiple mobile profiles simultaneously and can be re-configured 'over the air' (OTA) with new profiles or profile selection rules. Jola's use of this technology means that resellers can choose whether to deliver mobile data solutions that are optimised for best coverage or for best cost, whilst retaining the flexibility to change this preference in the future.
What problem does eSIM solve?
An issue for manufacturers selling their products in different countries has been the need to maintain multiple SKUs. This is because they have had to use SIMs from different operators, based on the territory they are to be sold in. No single mobile network operator can provide the optimal solution for all countries and eSIM solves this problem.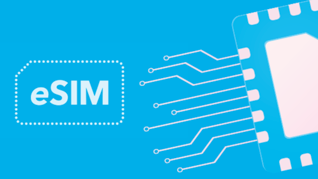 What are the key features of eSIM?
They are configurable OTA (Over The Air). Network providers can be changed without swapping out the SIMs.
They are cost effective. You can pick the tariff required based on the amount of data the customer needs and the country (or countries) that the SIM will operate in. Therefore, there are no more unexpected roaming charges to worry about.
There are many exciting new mobile technologies being developed all the time. For example, currently 5G, LTE-M and NB-IoT are being rolled out in various countries around the world. Some of these technologies are enabling new applications, not possible before. As and when these new technologies are made available to roaming partners then the Jola eSIM will support them. There is no faster way to gain access to these technologies, across multiple networks, than by using eSIM due to its inherent ability to be reprogrammed to support new networks and new technologies.
Jola is a global IoT MVNO, providing the UK's first multi-network eSIM built for the channel. e-SIMs give MSPs and resellers ultimate choice and control, whilst solving the biggest mobile data problem facing their end users – how to automatically connect any device to any network, anywhere in the world.
GSMA-compliant eSIMs give Jola partners a truly un-steered, multi-network roaming connection, ensuring the customer is always getting the best technical and commercial solution, whatever happens in the market. Network-agnostic eSIMs offer an alternative to MNO contract lock-ins and save customers the pain and expense of swapping out SIMs.
Jola has deployed a UK-based, resilient MVNO mobile core network, with global connectivity to over 450 networks in nearly 200 countries, and local connectivity with all four UK mobile networks. UK-based interconnects and breakout ensure the traffic stays in the UK.
To find out more, request our Partner Pack.