So you have seen the adverts on the television for fibre broadband but what's so great about it and how could it benefit your business?
It's fast
You have probably gathered that it is faster so the main benefit is you can download files easier. In the residential markets fibre broadband is being bundled with TV and phone packages and it supports multiple devices per household including TV, streaming music and online gaming.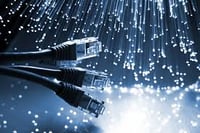 It's more reliable
Business users benefit from improved speed and reliability. A more reliable Internet connection opens the door for online business applications such as video and voice calling. With faster access it is much easier to access web hosted applications such as cloud voice, CRM, online backup and accountancy packages.
It's cost effective
Jola is offering a package of free fibre broadband for 6 months and £45 a month after that, on a 12 month contract.
What's the offer?
Business Fibre broadband FREE for 6 months at the maximum speed it will go and unlimited usage
Free survey
Free WiFi router
Free installation and commissioning
Free IP addresses
Six months free rental
12 month contract
£45 per month rental after 6 months
What's the catch?
There isn't one but there are a few things you should be aware of;
You must be eligible for a government voucher that offers up to £400 towards the cost of upgrading your broadband to fibre broadband.
There is £80 VAT payable on the voucher. If you are VAT registered just claim it back but if not it is a cost.
The offer assumes you have an existing PSTN line we can use for the FTTC. If not a new line will cost £14 per month and £100 to install.
The offer assumes they you are served from a market B exchange (which most people are). If not a set-up fee may apply. The connection charge is £80.